MPs should be "dragged" from Parliament to see Grenfell Tower's shell as a reminder of how their decisions caused the disaster, a firefighter has said.
Lucy Masoud, who worked on the recovery operation after the June 14 tragedy, blamed the blaze on Government austerity measures and a contempt for social housing tenants.
Speaking at the Stand up to Racism national conference, the Chelsea-based firefighter said her colleagues would "never get over" their experiences that night.
A panel of speakers including shadow home secretary Diane Abbott and Grenfell Tower survivor Bellal El Guenuni joined her to discuss how the inferno reflected institutional racism and social cleansing.
Around 80 people died when the 24-storey block was ravaged by fire.
Ms Masoud told a packed room at Friends House in central London: "What we do know and what we believe is austerity caused that fire.
"Had that building not been a social housing building, we know there wouldn't have been so many failures.
"Why did Grenfell have flammable cladding and no sprinklers and only one dry-riser? Because it was social housing and the decision makers don't care about the social housing tenants."
She added: "The minute rich people in Kensington and Chelsea decided they no longer wanted to look at an ugly building, those tenants' fates were sealed."
Work is now under way to shroud the charred frame of Grenfell in protective wrapping following concern the sight of the wreckage was distressing those who lived nearby.
But Ms Masoud, who was talking on behalf of the Fire Brigades Union at the event, said she disagreed with the decision.
She said: "That building as it stands there today in west London is a symbol of this country's failures.
"It's a symbol of how this country treats its social housing tenants and I think every politician, every MP should be dragged from the House of Commons to look at that building and made to see and understand that the decisions they made have led to what took place on June 14."
Grenfell survivor Mr El Guenuni followed her speech by saying the response to the disaster was led by young people from all races, defying stereotypes about social division.
He told the room: "During the fire, something amazing happened on June 14.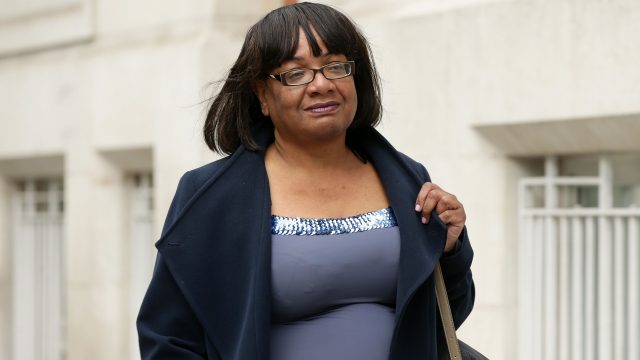 "I would say a good 60-70% of people trying to save people that night were actually youth, youth from black heritage, youth from Asian heritage and a lot of Muslim youth, were there risking their lives to save people from the tower.
"No matter what religion you were from, what colour you were from, they were there trying to save people."
The shadow home secretary then won a standing ovation as she rose to give the final speech of the event, having been an outspoken critic of how the west London residents were treated.
She called for Britain to "learn and relearn the value of solidarity", adding: "We have to fight against the social apartheid that this Tory government is forcing on London and other cities and intensifying every day.
"We have to fight for decent social housing, we have to fight for a properly funded fire service, but above all we have to fight for justice for Grenfell."